Sharif Carpentry Pergolas
A pergola is an outdoor room with cross rafters and no walls that provides a light, airy and inviting space to relax, dine or just admire. Pergolas are much larger than arbors and are generally freestanding, but can be attached to another building. You can also add lattice for more shade and to accommodate climbing vines. Because this structure can be freestanding, you won't need to make any complicated connections between the house or roof and the pergola, which is a definite advantage for do-it-yourself homeowners and the budget.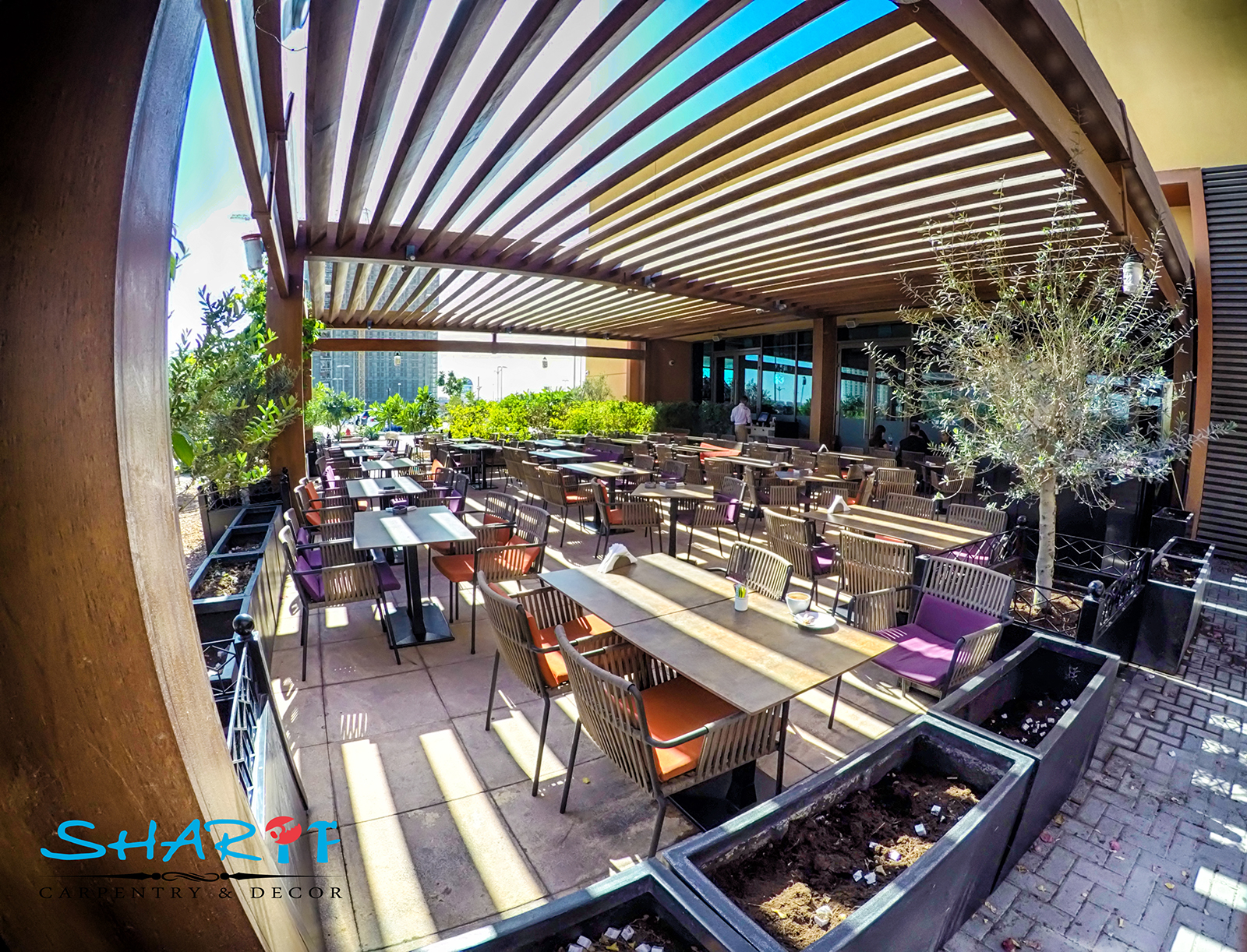 Advantage of Having Pergolas:
1. Pergolas Are Affordable and Easy to Install
If you want to amp up your outdoor space without spending a lot of money or breaking your back, a pergola might be the perfect solution. They're inexpensive and easy to build, but they have a big impact on your yard, especially if you add climbing flowers or other plants. Plus, if you choose a vinyl model, you won't have to worry about maintenance or deterioration. They're a great investment.
2.Pergolas Are Beautiful
Pergolas have a unique beauty that surpasses that of most standard awnings. They have a very sculptural and architectural design, and they can help create visual interest in an otherwise basic backyard.
3.Pergolas Can Lend Plants a Hand
Not only are pergolas beautiful on their own, but they can also lend support to other lovely landscaping features like climbing flowers, vines, and ivy. Plant these flowers and vines in the right place, and they'll weave their way up the pergola's supports and through the roof-like beams. Consider plants like wisteria, clematis, or even grape vines! You can also hang planters from the beams.
4. Pergolas Define Spaces
Typically, the ground under the pergola is topped with some sort of flooring, whether that's brick flooring, concrete pavers, or even a deck. When you combine the flooring with the pergola's pillars and beams, you help define your outdoor living space. Plus, because pergolas are open and airy, you can accomplish this without making the space feel smaller or more confined.
5. Pergolas Provide Shade
Although they look somewhat unfinished to the untrained eye, pergolas do provide shade. The size of the beams and their spacing will determine exactly how much shade is provided, though a pergola on its own can never create a fully-shaded space. There are pros and cons to this. Although you aren't receiving full shade, for example, you are able to see the sky and view the stars at night. If you would like the space to be fully shaded, just add a fabric cover to the beams.